Brief:
Name
: Andrey Mikhalenko
Area of living
: Minsk, Belarus
Working as
:
iddqd
studio owner.
Expertise
: Exterior / Interior
Project duration
: 3 days and more…
Software using
: 3DsMax, ZBrush, Marvelous Designer, Photoshop…
You can find Andrey:
– How did you start your career in 3D?
I became acquainted with 3D during my study in the 11th grade. It all started with my choice of specialty – "Interior Design", and I was wondering where, how and what materials are used in the creation of interiors. Having surfed the internet, I found information about 3Ds Max. Well, in a few hours 3Ds Max and some other books were downloaded/installed on my computer. I started to study them bit by bit. At the beginning I tried Cinema 4D, Maya and other programs, but there were some problems with them. Sometimes l did not work for months, but starting from the second year at the university, my 3Ds Max time increased until it occupied all my time. Therefore, I opened 3Ds Max for the first time in the December 29, 2009, but more serious classes began in 2012.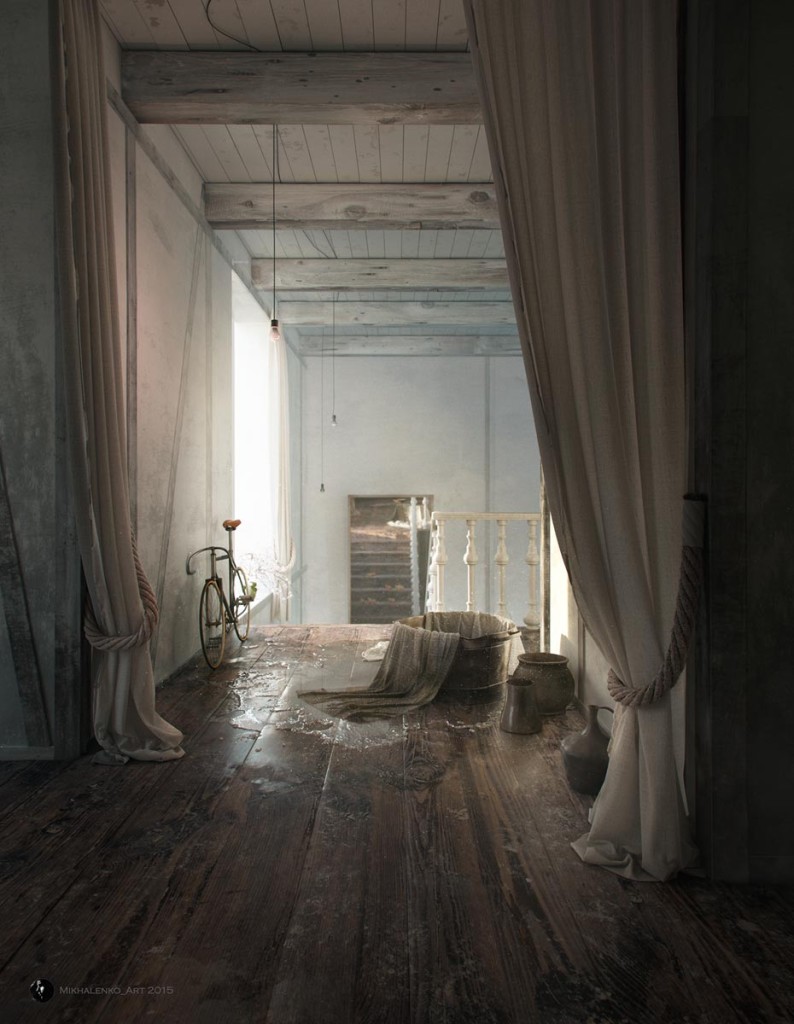 – Your main specialty in 3D?
Basically, I specialize in the exterior. The interiors are also present, but generally in my personal creative projects where they turn into art, still life paintings and illustration. Apart from records, I make illustrations in different styles: landscapes, still life, genre art (to be honest, without involving people). During the work, I try to focus on the atmosphere, details which create a story and let the viewer travel, imagining the origin of something, thinking about those who lived here, who could live here and what events occurred at this place.
To my mind, the work "No one is there" has the most powerful plot. Many people express opinions about what is happening in this house. It could be murder, sickness or suicide. There are so many options that people can interpret for themselves, as details can give hints. Everyone sees what he wants. Most of my works are "self-therapy": they show my feelings and sentiments that are happening within me, helping me to overcome them.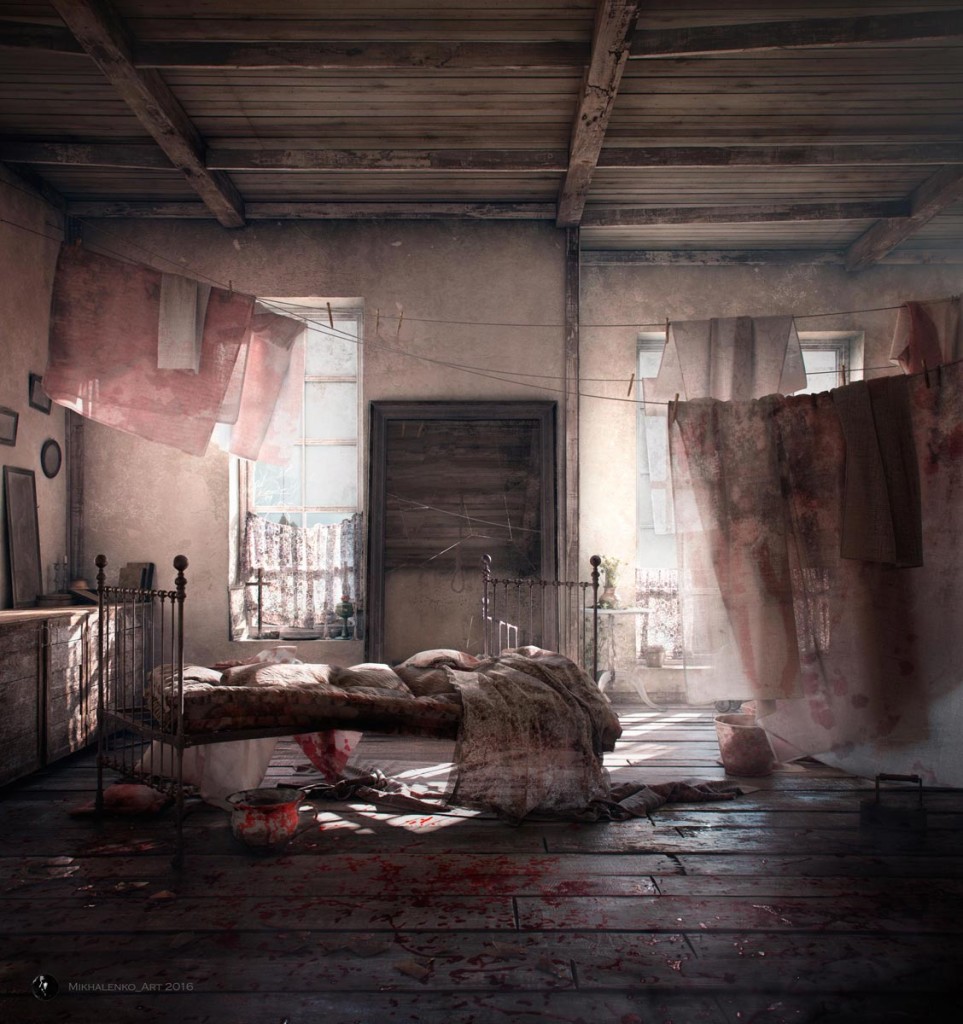 – How do you negotiate with clients?
With clients, I talk via Skype, email or Facebook. Initially I request information on what they want at the end, references or sentiments.
– Do you work in your own style or under the client's guidance, and what types of projects are the most interesting to you?
As for style, I try to work in my own style, although it all depends on the client and task.
– How is you working process look like? How many revisions do your clients get?
The work flow is quite simple: it all begins from materials preparation, estimating the amount of work and discussing the price and terms. Then the basic model and render is produced with pre-configured cameras and sent to the client for approval. This is followed by setting materials, adjusting lighting, the statement and then final representation takes place.
In total, three changes are made free of charge but certainly not the type of changes which mean remaking everything with completely different architecture.
– Have you ever refused to take a job and, if yes, why?
I often refuse to take projects because I'm not interested in them and I cannot learn something new by implementing them.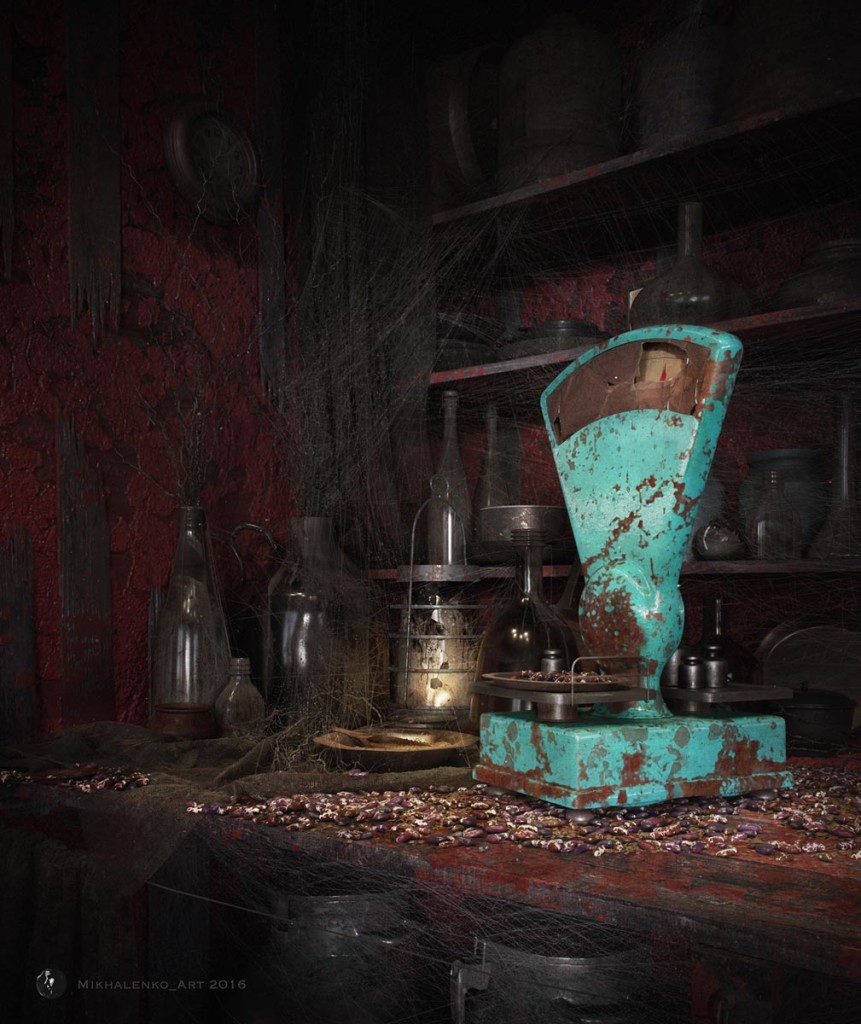 – What kind of clients will you never do any business again with?
The type of customer with whom I do not work is the one who needs to do everything 'cool', of high quality, fast, and all of this should have been done "yesterday". Of course there may be exceptions.
– How do you calculate/estimate project price?
The cost of the project includes everything, including modeling and rendering. It depends on the results which need to be obtained, the project complexity, and a lot of different factors, considered individually. Time, as well as the price, depends on what you need to produce.
– Do you have a technical education? if Yes – does it helps in 3D, if NO – will it help if you had it? What about any background in traditional art? Do you have it and if yes does it help you?
I have a semi-technical education, as at the university I studied couple of technical subjects, such as design planning, materials and architectural design. It helps you to understand better what you're doing, it helps you to read architectural drawings.
– Client is nice, project agenda is clear, now you need inspiration to get started. What are your sources of inspiration?
The sources of inspiration are the
Pinterest
site, different groups in
Vkontakte
,
Facebook
and a folder on my computer in which I periodically save different images that I like. Inspiration also comes from movies and music. It can be found wherever you want: in people, the environment, within yourself. But don't wait for the "muse"; you need to work constantly on yourself, grow and cultivate discipline. As my teacher on drawing said, "Who are we, that the muse should come to us!"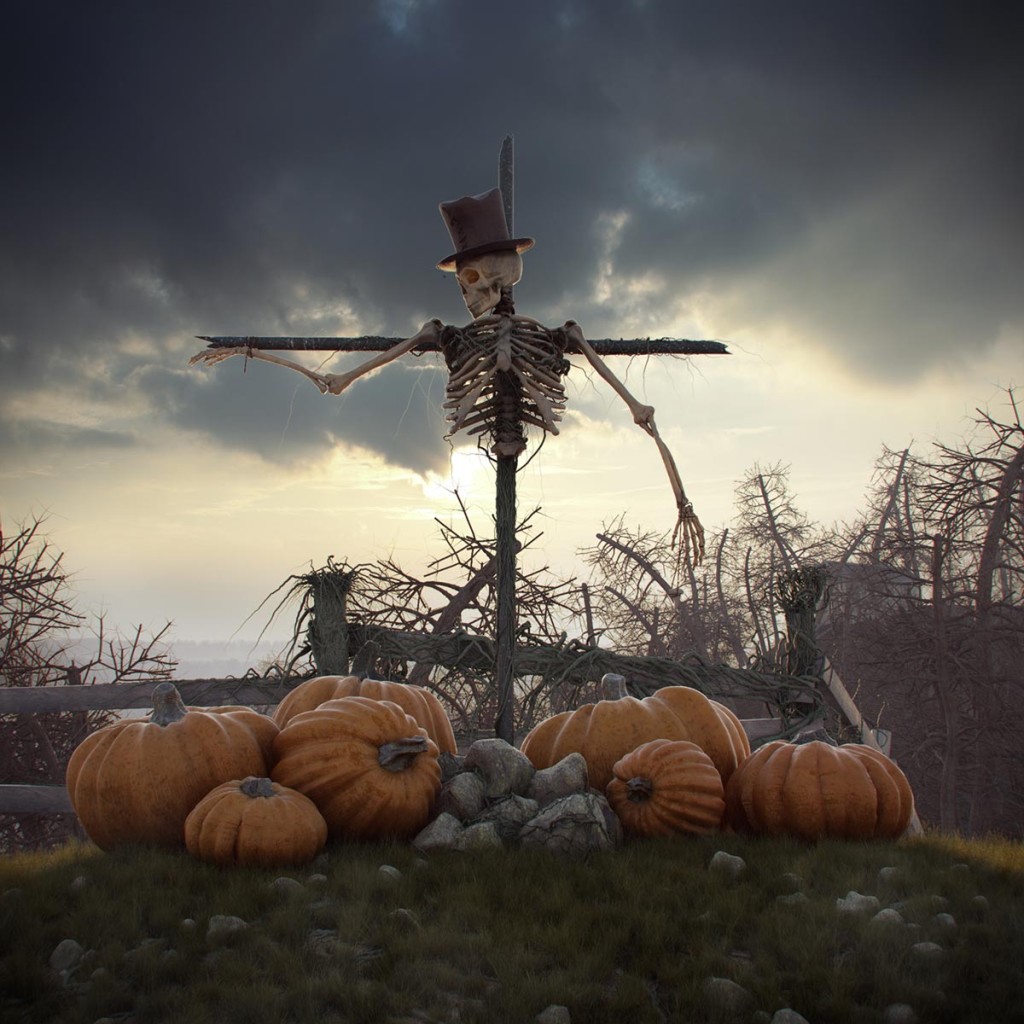 – Who is your favorite 3D artist or company or who inspires you the most?
– There are 2 types of visualizers: one who heavily rely on post-work and one who apply basic post-work. From which side your company is and why?
In my work I use different techniques. Sometimes we need different results, so the approach is also different. For one project I can do all inside 3DsMax and after only a light color correction in Photoshop takes place. For others I do only discs in 3D and most of the work is on the post-processing.
– How would you rate your level of expertise in 3D graphics on a scale 0 till 10. In what areas you would like to get more knowledge?
I would estimate my level about 6 out of 10. I would like to develop my skills in VFX and various simulations such as water and explosions.
– What was your most difficult project you have ever done?
One of the biggest and most difficult projects I think is "UNFORGOTTEN HERITAGE – Saint John's Abbey Church", which I did within the studio. The difficulties included starting from the search for references, because we chose not the most popular object, so we had to look for photos, videos and all other information using different queries in Google search. Moreover, I had to learn new software; in this case it was a Nuke. During my work on this project, I improved my technical skills as well as the organizational work of the project.
– What software do you use/like the most? Why?
I use 3DsMax, ZBrush, Marvelous Designer, Photoshop also have knowledge about Nuke and After Effects
– Training, contests, conferences?
I didn't take courses and I haven't taken part in competitions in recent years either because I don't have enough time. As for conferences, I also haven't time, at least not at the moment.
– Do you have any personal ideas in 3D which you would like to realize?
Concerning 3D, my dream is to study the VFX, such as destruction and various elements, when you can destroy everything you want. But there is no time to do it, although drafts for this type of work have already been drawn and that is the first step.
– What do you think about the level of 3D visualization in your country in general?
To my mind, the 3D in Belarus begins to emerge. The sphere is quite young, and there is no place to get special education. Only recently have some courses and schools started to appear. Perhaps, over time, it will grow into something good.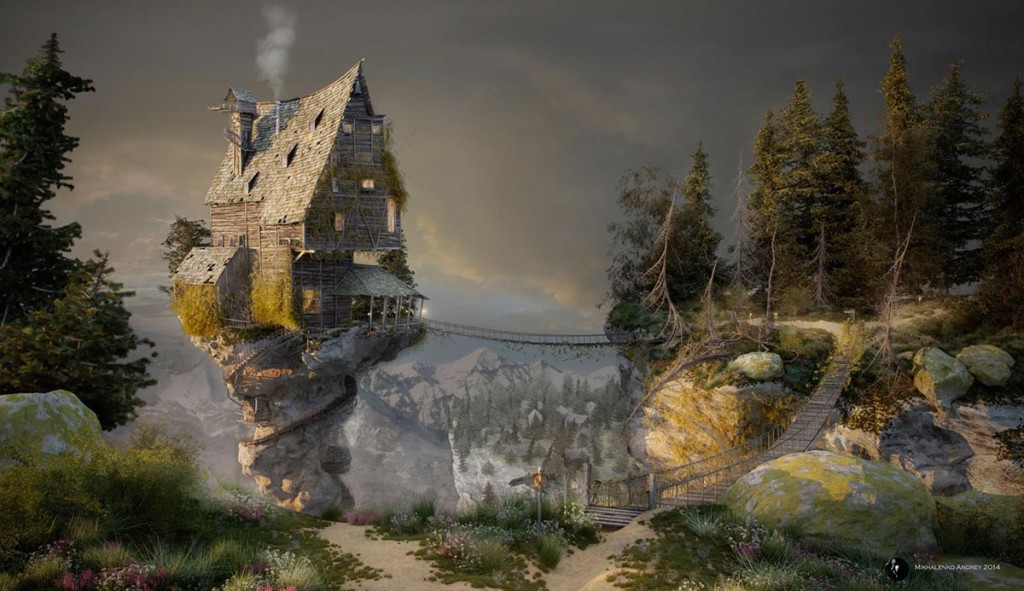 – Market is overwhelmed with the low quality/price offers. There are many programs
which allow creating simple 3D without any knowledge. Do you think such a job as a 3D artist will still be needed in future?
As far as the computer program for easy creation of 3D is concerned, it may be surprising, but I don't see it as a serious threat because, with the constant development of skills, it is possible to perform more complicated tasks. These require a lot of knowledge and a holistic approach which those programs cannot provide. We also shouldn't forget about aspects such as artistic vision.
– What are your long-term goals or career plans?
I usually do not set long-term goals, but if I do, they are rather abstract, because the world is full of uncertainty and technology is progressing. Speaking globally, my goal is to become a world-class 3D artist with a worldwide reputation.
– What would you suggest to beginners of this industry? What are the essential skills to focus on when one starts?
The only advice that I give to all on the question: "What should I do, to do the same as you?" is develop, study, seek and do not forget your ambitions. There is no secret; it means the usual attention to details, analysis of the situation and environment.